Birchover Sales and Lettings (www.birchover.com) have taken up residence in the very heart of Nottingham at 20 Fletcher Gate. Birchover were prompted to open this new office to more effectively handle their growing business after winning significant contracts in Nottingham.
Specialising in people – not property, Birchover are a fresh, new breed of Estate and Letting agent. They succeed by using a balanced mix of both innovative and 'back to basics' ideals. Promising an exciting and stress-free experience – their approach is a breath of fresh air when it comes to selling or renting your home.
Co-Owner, Carl Bridge, said "We're thrilled to be setting up a physical presence in the City. This move demonstrates our commitment to further expansion in Nottingham and the East Midlands. Our Nottingham launch follows the opening of a Derby head office just 18 months ago."
Carl went on to say, "The office on Fletcher Gate is perfect for us as it is highly prominent and on one of Nottingham's most accessible high footfall City centre streets. In addition, the all-inclusive package from Exeid includes free of charge use of meeting rooms and free refreshments for the staff, so we can get on with running our business knowing everything is catered for."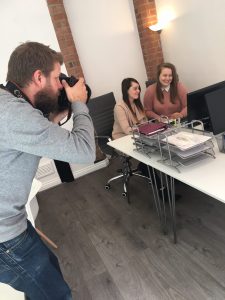 The Evening Post visiting Birchover to take pictures of their new Exeid office.
Managing Director, Laura Etheridge, added "We're delighted to be taking residence on Fletcher Gate and appreciate all of the help we've received from Exeid. At Birchover we believe that a home isn't just a place, it's a feeling. And we believe the same for our new office, too! The team at Birchover are really excited to move in and become part of Nottingham's business community."
Birchover's new office at 20 Fletcher Gate is just meters from the Lacemarket tram stop, the park and ride bus stop is located outside the front door and for parking – the Fletcher Gate car park is just across the road. So don't hesitate to pop in for a brew.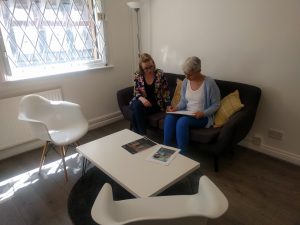 If you can't make it in person and you're looking for help to sell or rent a property then simply call the Birchover team on 0115 983 8758 or email them on mail@birchover.com